So maybe you live in a place that still has snow and although you hate to admit it, it just doesn't seem to be melting anytime soon (Montana, anyone? Canada, maybe?). It happens in June in other parts of the world, heaven for bid! We have a guest post sharing a few things to look out for for those snowy getaways!
Skiing Holidays for Non-Skiers: What to Look Out For
Fancy a holiday in the mountains this winter? It's not all about skiing and snowboarding, you know. While thousands flock to the slopes each year to enjoy the well groomed snow, others are content enjoying the rest of what's on offer in the resort. Act quickly and you can take advantage of some great deals by choosing to ski France and beyond, with plenty of activities available for the non-skiers too.
Those who choose not to ski, or at least fill their time with activities as well as skiing, will find that most European resorts will cater for their requirements. From nature lovers to thrill seekers, there's something for everyone. With so much to choose from, it'd be wise to have an idea of what's available in your chosen resort before you get there, so that you can plan your itinerary to suit. Whether you choose a French ski holiday or prefer to go a little further afield, keep your eyes peeled for some of these superb alternatives to riding the powder.
Strap yourself to these funky shoes and appreciate the snow-capped wilderness in all its glory. Mountain scenery is some of the most beautiful you will ever have the chance to enjoy and snowshoes will give you the chance to enjoy it first-hand.
A perfect activity for all the family, sit back and enjoy the ride as a team of dogs take you on a magical ride through the mountain forests.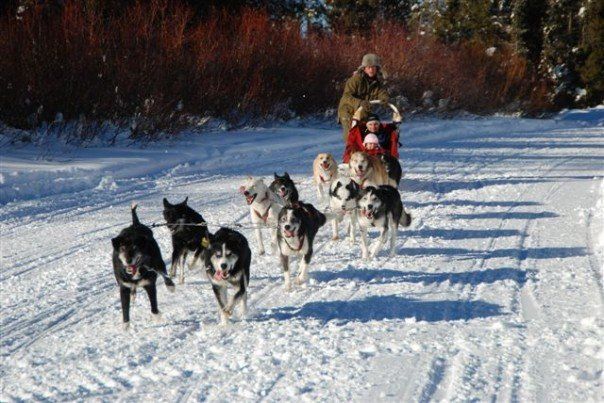 Our college friend Jed
Definitely not for the faint-hearted! With the help of an instructor, you will have the chance to mountain bike down steep snow-covered slopes and hopefully, land at the bottom on the saddle and not on your jacksie!
Of course, no list would be complete without this family favourite! Fun-filled and available in most resorts, an afternoon of sledging should be part of every trip to the mountain, no matter how old you are!
These are just a few of the increasing number of activities available in and around ski resorts nowadays. Take a look at what's on offer in your chosen resort, today.